Goals: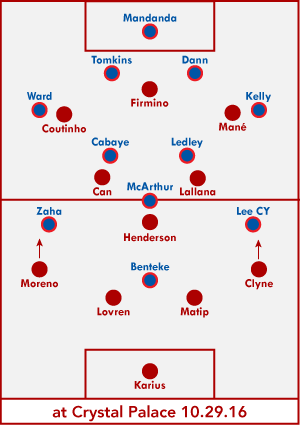 Can 16'
McArthur 18' 33'
Lovren 21'
Matip 44'
Firmino 71'
We joke about how Liverpool might kill us all. We joke about Liverpool is Mount Everest peaks and Mariana Trench valleys; how Liverpool's attack is as good as it gets and Liverpool's defense can be as bad as it gets.
They aren't really jokes.
This was everything good and bad and Liverpool in one match, turned all the way up to 11. We're still only ten matches into the campaign, but it's getting more and more like 2013-14 with every one of them.
Liverpool look in control, Liverpool poke and poke, and within 16 minutes Liverpool score a wonderful early goal: Coutinho over the top to Moreno first time to Can, his first goal for more than eight months.
But two minutes later, Liverpool - read: Dejan Lovren - loses its mind: Lovren's wild miskicked clearance, Karius rushing out to close down, McArthur's easy header over the starfished keeper. Crystal Palace's first attack, all thanks to Liverpool. It was Liverpool's first open play goal conceded since 2-1 at Chelsea more than a month ago. It was Liverpool's first defensive error leading to a goal since 4-1 v Leicester six weeks ago.
But three minutes after that, Liverpool were back in front, courtesy of the man who cost Liverpool a goal: Lovren's bullet-header at the back post from Coutinho's corner, outmuscling his marker in atonement.
And now Liverpool are rolling, Firmino's shot blocked, Moreno's cross just over Firmino, Mané wild from distance, Moreno hitting the post from no angle. But then there's having to defend again, another "hey wait Palace are allowed to attack, where did that come from?" There's Lovren loses an aerial duel with Benteke, there's Zaha with space to cross, there's McArthur getting in front of Lovren to head past Karius.
Sigh. It's the first time Liverpool have allowed two headed goals in a match since an 0-2 loss at West Ham in January. It's the first time the same player's scored two headers against Liverpool since I don't even know when. And once again, for all the good, Liverpool are level.
But Liverpool start rolling again. Except Liverpool can't score. Coutinho has a header saved onto the post (and, evident on the third or fourth replay, handled by a defender). Mané misses a clear-cut chance, skying a soft center from eight yards. Lallana shoots across the face of goal after a wonderful combination fast break with Mané and Coutinho.
It's almost halftime and Liverpool are still somehow level. But then Liverpool gets its third corner. And Liverpool score its second goal from a corner, Matip with the freedom of London as Palace's man-marking completely falls apart, his first goal for the club. The fifth goal of the half, and the fourth from a header.
Incidentally, the last time Liverpool scored two goals from corners in the same game was March 2014, in a 6-3 at Cardiff (both Skrtel), in case you needed any more fuel for the 2013-14 comparison fire.
Okay. Liverpool had established a foothold for the third time, at a fortuitous time. Regroup at halftime, put Palace to the sword, and for the love of Fowler don't do anything stupid.
Well, at least we got two out of three.
Because Palace were assuredly the more attacking side in the second half, Liverpool attempting resiliency and looking for counters.
Liverpool almost got the counter: Mané again spurning a chance we'd expect him to score, put through by Coutinho but kick-saved by Mandanda.
More importantly, Liverpool got the resiliency. Palace had the chances, but Liverpool did enough, with Karius actually making a couple of saves on Benteke and Liverpool surviving a couple of scrambles and set plays.
Because a bit of luck's almost always involved, Palace wanted three penalties and got none of them. A different referee or linesman could have given at least one. Probably should have given at least one: the first two - Zaha falling over untouched in front of Lovren and Matip getting the ball before getting Benteke - would've have been either soft or flat wrong, but Can appeared to trip Zaha in the 70th minute. On first viewing, it looks like Can wins the shoulder-to-shoulder, but on replay, there's a little coming-together trip in there. And it's not seen or just not called. Then again, Liverpool could have had two penalties for hard-to-see handballs, so *shrugs emoji*.
Less than a minute after Zaha's last penalty claim, Firmino. A little bit of possession, Lallana's run dragging Dann out of position, Henderson's through-ball finding that space between the center-backs, and Firmino exploiting that space, deftly chipping Mandanda.
Once Liverpool finally took a two-goal lead, Liverpool were able to see out the game fairly comfortably. Zaha forced Karius into action once more, soon after Firmino's strike, his effort down the keeper's throat and punched away, but from there, Liverpool held Palace mostly at bay while adding chances on the counter. Which also isn't a new phenomenon. It usually takes allowing a goal, sometimes two, but Liverpool can play with backs against the wall. As they did in the last 15 minutes against Tottenham in the League Cup, the last 10 minutes against West Brom, the last 30 minutes against Chelsea, and the last 15 minutes against Arsenal.
Shout-out to Gini Wijnaldum, whose entrance in the 76th minute was the prelude to Liverpool shutting down the game, and it's probably not coincidence.
The final chance of the match was rightfully Coutinho's, deserved for running the show throughout, unfortunately shot straight at Mandanda. He notched two assists (as well as a hockey assist) and yet I can't help but feel the headline stats won't encapsulate just how good he was today. But it's not as if it's for the first time, so far making a massive leap this season, and it's not as if he's the only one. There's Roberto Firmino, scoring again. If Mané takes one, let alone both, of his clear-cut chances, we're raving again. Can was vital in midfield, did you see that Henderson assist, and holy hell who reminded Alberto Moreno how to play football.
This side thrills. This side baffles. This side cuts defenses to pieces. This side slits its own wrists. But this side never gives up and this side never stops working.
The Relentless Reds grind on, to the delight of both us and our cardiologists.