Goals: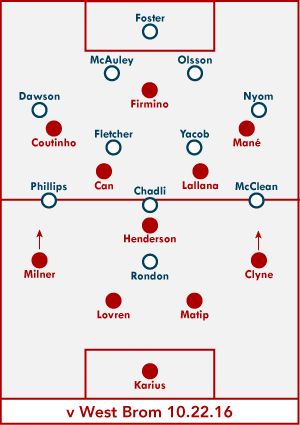 Mané 20'
Coutinho 35'
McAuley 81'
Stop me if you've heard this one before.
Liverpool dominate. But Liverpool are denied a needed goal multiple times, including three clear-cut chances either saved or blocked. Then Liverpool concede from a set play. Liverpool concede from the opposition's first shot on-target.
Liverpool concede against West Brom at Anfield in the final ten minutes of a match they should have sealed long before
.
All against a Tony Pulis side, a manager that Liverpool's failed to beat in the last eight league meetings.
Then again, you haven't heard this one before. The difference between this and past vexations was Liverpool's first half and Liverpool's front three, which scored two typically impressive goals. Two very Jürgen Klopp's Liverpool goals: the first a blitz attack featuring a Coutinho dummy, Firmino's sumptuous first assist of the season, and Mané's fourth goal of the season; the second starting from Firmino pressing Foster into an awful clearance and ended by Coutinho dropping two defenders before slotting home.
Despite all the recurring bad and recurring bogeymen, Liverpool won. Liverpool ended Tony Pulis' five-year voodoo. My heart would be a lot healthier had Liverpool made it easier, but this Liverpool just don't do easier, and the three points are all that matters.
With Lallana fit enough to start, a healthy Sturridge returned to the bench. And a healthy Sturridge left out is something that would have surprised every single one of us three, six, twelve months ago – and still surprises some now. But Liverpool's first half is a perfect demonstration of why Firmino, Mané, and Coutinho are Klopp's preferred front three. All three press, run, create chances, score. They baffle defenses and smother attempts to play out from the back. On their day, their movement and interplay is simply malevolent, all three consistently on a single wavelength, a higher plane than the rest of us mere mortals operate.
And all three were heavily involved in both goals: a goal and assist for Mané, a goal for Coutinho, an assist for Firmino, Coutinho's dummy to open up the first, Firmino's pressing to start the second.
I would really prefer Liverpool did things the easy way, though. This could and probably should have been Hull or Leicester all over again. But at 2-0, Firmino's denied by McAuley's last ditch block, Foster brilliantly saves Lovren's header, and Olsson somehow stuffs Can on the break, among a handful of other opportunities.
Meanwhile, West Brom didn't even attempt a single shot until the 70th minute. Any type of shot. Unsurprisingly, said first shot – spooned over by Chadli – came from a corner. And then it got a bit nervous.
West Brom finally pushed forward with nothing to lose, probably waiting as long as possible because Liverpool really is that dangerous, aided by Morrison and Robson-Kanu's entrances. Then, the inevitable set play disaster: West Brom's third corner, a scramble just outside the six-yard box when no one from either side made clean contact on the cross in, a fortunate ricochet for a wide-open McAuley. To be slightly fairer to Liverpool, the goal should have been ruled out as Dawson was both offside and directly in front of Karius – the textbook definition of interfering with play – but evidently the linesmen also expect Liverpool to stupidly concede from at least one set play.
And then it got a lot more nervous. Classic headless chicken content, end-to-end, with Liverpool frantic in both halves. I still think Liverpool probably should have made a sub, any sub, long before the 79th minute. But, to be fair, frantic is what Liverpool does, and the best chances remained the home side's: Firmino twice denied by Foster, Wijnaldum inches wide in injury time. West Brom had more possession, but managed just two shots: Chadli from distance nowhere near the goal and Robson-Kanu from (surprise!) a free kick swiftly blocked.
As if we needed more reminding, Liverpool struggle to defend set plays, Liverpool struggle against bigger and more physical sides, Liverpool concede to many goals from the opposition's first shot on-target, Liverpool – less than previous seasons but still too often – don't take enough of the chances they create.
But it's also clear this Liverpool attack ain't last season's Liverpool attack. We aren't at 2013-14 levels yet, not the tornado up front or the hilarity at the back. It's not simply scoring more than the other side, because Liverpool have yet to concede more than once since losing to Burnley nine matches ago. But it is still doing enough in attack to cancel out what happens in their own half.
Still, it is only the ninth match of the campaign. It is coming together. When it's not causing heart attacks, it's tons of fun.
And Liverpool finally beat Tony ******* Pulis.