Goals: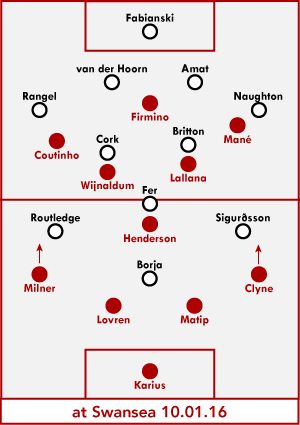 Fer 8'
Firmino 54'
Milner 84' (pen)
Phew.
Let's get one thing clear. That was bad. The first half was, no exaggeration, as bad a half as we've seen since Klopp became manager. Liverpool should have been behind by much more than a single goal. It felt like, and was almost the scoreline of, the we're-still-talking-about-it Burnley loss.
But Liverpool won. And that Liverpool won – despite going a goal down early, despite conceding from yet another set play, despite losing Lallana to injury in the 20th minute, despite being behind at halftime, despite failing to put a single shot (from all of four in total) on target in the first half, in one of those much-discussed pitfall away matches – is almost more reassuring than if Liverpool had comfortably won 4-1. Almost.
Just like at Burnley, it started in the worst possible manner. Swansea should have taken the lead three minutes before they did: their first attack, their first of four clear-cut chances, but Borja's header between the center-backs over. Then, their first corner, their first shot on-target, their first goal: Borja beating Clyne at the back post, Lovren deflecting the flick-on to Fer, open for the tap-in. At that point, Karius had faced three corners and two shots on-target and Liverpool had conceded two goals. It's hard to blame him for either.
And there was little response from Liverpool, one long-range not-close shot from Lallana in the ninth minute the sum of Liverpool's attack until the 35th minute. In between, Lallana groin injury saw him replaced by Sturridge, with Coutinho moving into midfield, while Swansea had two more clear-cut chances: Cork tamely hit a deep cross from close range at Karius, while Borja (offside but not called) headed wide when open on another set play.
Liverpool's two decent attacks in the final ten minutes of the half – better than the first 35 at least! – were both blocked by Amat. Again, just like Burnley, Swansea pressed Liverpool into problems, Swansea defended brilliantly, and Swansea had the lead. Even more deservedly than Burnley did.
To put it bluntly, Liverpool have been terrible when they've failed to score in the first half since Klopp became manager. It had happened 16 times in the league. Liverpool had won just four – 1-0 v Swansea, 1-0 v Leicester, 1-0 at Sunderland, and 2-1 at Crystal Palace – drawing five and losing seven. Other than the Palace hilarity, Liverpool needed to keep a clean sheet to do it. Liverpool haven't yet kept a clean sheet in the league this season. Liverpool have kept just one clean sheet away from home in the league in 2016, a 6-0 win at indescribably bad Aston Villa.
Most of Liverpool's goals under Klopp, in contrast to the last few managers, have come in the first half. Liverpool often need to score early to click into gear. Or else.
Not today, Satan.
Because Liverpool responded, without making personnel changes. Liverpool finally put a shot on-target three minutes into the half, Liverpool finally scored nine minutes into the half. As against Arsenal, as against Tottenham (albeit a penalty), as against Chelsea, Liverpool needed a set play goal to break through the wall.
It was all down to the second phase. Coutinho put the free kick into the wall but every attacker took up a clever position as Henderson regrouped, a perfect chip over beating Swansea's broken line, Firmino in acres of space to direct a header past Swansea. Back to even. Time to go.
Between the 46th and 70th minutes, Liverpool took nine shots to Swansea's none, with both Coutinho and Sturridge having excellent opportunities to give Liverpool the lead, both narrowly wide. That Liverpool failed to put the pressure to use annoyed, but it truly seemed a matter of time before the second.
But then things began to ebb, and again, a fair bit of credit goes to Swansea. Guidolin made three changes between the 62nd and 72nd minutes – Barrow for Routledge, Ki for Britton, and Fulton for Fer. Swansea had clearly tired, pressing and pushing in the first half and unable to keep up with Liverpool in the second. But then they were able to keep up. Then they were able to press. For ten minutes, Liverpool were unable to control the game, unable to take a shot, and nearly gave the game away when hassled into a mistake, with Matip necessarily blocking the cross with Liverpool outnumbered in the defensive third, followed by Karius completely missing the corner but Swansea unable to get a player on it.
Still, Liverpool preserved. And Liverpool were rewarded for it, coupled with Swansea defending like Liverpool are prone to. Otherwise known as "cue Yakety Sax." A misplayed clearance by Barrow, Rangel unable to hold off Firmino, then tackling Firmino – not a football tackle but an American football tackle – with Liverpool duly awarded its fourth spot kick so far this season. Which Milner unfailingly converted.
Finally, a marginally undeserved lead, but a lead nonetheless. By hook or by crook, Liverpool on pace to win a match that could have been out of sight after half an hour. Liverpool able to sit back, smother, and counter, Coutinho and Origi missing chances and an almost own goal.
But Liverpool also almost gave it away, in the last minute of the match, under unnecessary pressure, because Liverpool, Rangel's deep cross finding an unmarked van der Hoorn when Karius didn't come, a hesitation and mis-kick thankfully trickling wide.
So yeah, Liverpool weren't good. And I should care, but I don't really care. Because Liverpool won. Because Liverpool did enough in the second half, and Swansea couldn't quite do enough in the first half. Because Liverpool won away at a bottom half side after conceding first for the first time since the aforementioned Palace match last March. Because Liverpool did what they weren't able to do against Burnley, a match we're going to keep mentioning until Liverpool get results more like today's than six weeks ago.
Because we get to look past this and plan for better over the next 16 days (thanks, unnecessary international break!) rather than dwelling on another painful setback. Rather than mad and moaning and complaining and criticizing, we'll see another Liverpool win, three more points, and Liverpool in a very-early-don't-pay-too-much-attention-don't-talk-about-it top four place.
Beat the dross, no matter how, win the league. By hook or by crook, dross beaten. That's all that matters.