Goals: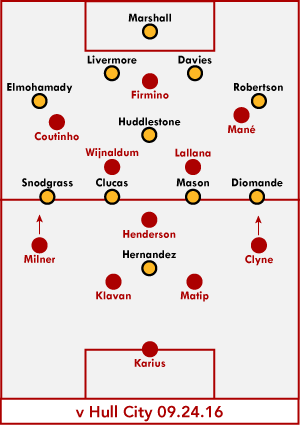 Lallana 17'
Milner 30' (pen) 71' (pen)
Mané 36'
Meyler 51'
Coutinho 52'
Maybe, just maybe, we slightly overreacted to the Burnley loss.
What Liverpool did against better sides, what Liverpool did against more open sides, Liverpool did just to Hull. Even more emphatically. Hull, who've been a bête noire for the last few seasons when they were in the Premier League. Hull, who had conceded more than once in just one of this season's seven matches. Hull, who Liverpool hadn't scored an open play goal against since September 2009, six meetings ago.
Liverpool did exactly what Liverpool needed to. Liverpool started as Liverpool meant to continue. Liverpool swarmed, Liverpool counter-pressed, Liverpool attacked attacked attacked.
A clear-cut chance cleared off the line within ten minutes, then the first goal within 17: Coutinho's lovely balance and turn inside, charging towards the box, passing to Lallana rather than shooting, the move finished with a clever touch, immaculate sense of space, and a left-footed effort into the far corner. Then, Elmohamady sent off for a goal-line handball and a penalty scored within half an hour. Then, the third six minutes later, more quick passes and Liverpool attackers popping up all over the final third, Lallana's Cruyff turn into space to set up Mané at the top of the box, spin, placed, goal.
Liverpool were at their fluid best in attack, with exceptionally brilliant interplay and movement from all involved. Liverpool created room to attack through charging down Hull defenders when they happened to pick up possession, through the front five's constant shifting, through clever dribbling and even cleverer passing. Liverpool had all of the possession, all of the territory, and Hull had zero shots.
Of course, then the second half happened. Well, the first six minutes. A Hull corner from nothing, when Milner misplayed his headed clearance, led to Hull's first shot and Hull's lone goal. Because of course Liverpool were going to concede. Because of course Karius concedes from the first shot on-target he faces. The more things change, etc. Goalkeepers are cursed, set plays are cursed.
Liverpool will never keep a clean sheet in the league. But that won't be much of a problem if Liverpool keep scoring as they have.
As Liverpool demonstrated less than a minute after Hull's goal. There was no knock-back. There was no tilt and regroup. There was no whispered breath of the most unlikely of comebacks. There was Coutinho, and Coutinho's boot stamping on Hull's face – forever. 54 seconds after Meyler's consolation, without Hull ever coming close to touching the ball, a trademark unstoppable missile from distance. Kickoff, Wijnaldum, Mané, Lallana, Coutinho, pick that one out.
Don't get any ideas, Hull. Ever. And tell your friends.
And, really, that was pretty much it. Wijnaldum probably should have scored a clear-cut chance a few minutes later. Sturridge won a penalty two minutes after coming on. Hull impressively doubled their shot total with Snodgrass' deep free kick nowhere close. Hull played for damage limitation and got it. 5-1 was actually damage limitation.
So, a goal and two assists for Adam Lallana. A goal, an assist, and a penalty won by Coutinho. Mané's third goal of the season in his fifth league match. Two carbon copy penalties scored by Milner, that second won by Sturridge. It ain't often Firmino isn't involved at least one of Liverpool's goals, but once again, he is the foundation of Liverpool's press and the most mobile of Liverpool's non-stop runners.
Yes, yes, set play goal conceded, first shot on-target conceded. Yes, yes, Liverpool against these types of sides has been more worrisome away from Anfield rather than at it. But Liverpool were quite good and that was quite fun. Let's not spoil it.
Liverpool are fun again. And we've got 32 more league matches of this. Enjoy the ride.