Goals: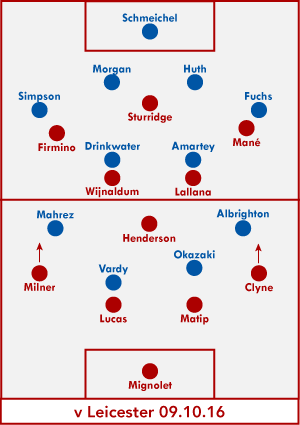 Firmino 13' 89'
Mané 31'
Vardy 38'
Lallana 56'
We've said it multiple times. If Liverpool cut out the self-inflicted stupidity, Liverpool can be very, very, very good.
Well, Liverpool still had some self-inflicted stupidity today. But Liverpool were also very, very, very good. That was comprehensive despite a solitary moment of madness. Liverpool were good enough to overcome a solitary moment of madness.
That was everything that the loss at Burnley wasn't. Sure, there are massive differences in those sides (one has won the league, after all), and Liverpool were at home rather than away, but this still could have gone similarly. Last season, Leicester did to multiple sides what Burnley did to Liverpool.
And, like Burnley, Leicester started the brighter side. Leicester immediately took the ball deep into Liverpool's end, Leicester immediately targeted the space between Lucas and Milner, two midfielders playing as defenders. But Liverpool maintained, Liverpool adequately defended a first-minute corner (and the next six), and Liverpool eventually took control. And then the goals came.
Liverpool stretched Leicester in ways they wholly failed against Burnley on both of the opening goals. Quick passes out of defense, spreading play wide, dragging defenders out of position. From Lucas to Milner to Firmino, deftly aided by Sturridge's run into the channel splitting the center-backs and pulling two defenders out of position. A touch to find space, a shot that wrong-footed Schmeichel. Sure, it helps when Leicester's front two doesn't ferociously press and Liverpool have time to complete the first two passes, but Milner's pass and Sturridge's run, and Firmino's touch, and Firmino's finish help even more.
Liverpool never hit the jaw-dropping heights at Arsenal, but Liverpool were dominant, Liverpool were attacking, and Liverpool were trying to put boots on throats. Leicester had no recourse but lumping clear out of defense – which admittedly, with Schmeichel's distribution and Vardy's pace, is a preferred tactics, but Liverpool had it adequately covered and smothered. The interchanges between attackers and the linking of play by Lallana and Wijnaldum were wondrous. Only Schmeichel's brilliant save denied Sturridge in the 26th, but Liverpool wouldn't be denied for much longer, needing just five more minutes to find the second.
More quick passes in midfield after Henderson stole possession following Schmeichel's kick to Okazaki. Liverpool poke and prod before Lucas' deft pass into the attacking lines, laid off to Henderson, over the top to Sturridge, pulling the center-back wide before a back-heel to the underlapping Mané, just enough with the chipped finish to beat the keeper. More sumptuous combination play, more incredible movement, and a deserved 2-0.
Of course, Liverpool have to keep it interesting. Liverpool won't let us watch a single game comfortably. A drinks break in the heat and then the calamity. Mignolet passes short to Lucas on a goal kick, but a poor touch triggers one of Leicester's infrequent presses. Harm, but no foul, until the baffling decision to try to pass back to Mignolet but actually passing straight to an open Vardy for the striker's first touch in the box. "Remedial" doesn't even do the error justice.
And, unsurprisingly, Liverpool went a bit on tilt after the error. Heads dropped. Fewer sharp passes, no brisk movement, no goal threat. Leicester possession, but little Leicester danger either. Liverpool still wobbles. Liverpool still bends. But Liverpool didn't break.
And Liverpool regrouped at halftime. As with the first half, Liverpool needed to defend an early set play, and did so, and then went on the attack. Sturridge denied by Schmeichel on a clear-cut chance again foreshadowed the two-goal lead, this time coming from Lallana, needing less than a minute rather than five after Sturridge's opportunity. Liverpool winning then establishing possession after Schmeichel hoofed clear, Sturridge's throughball for Wijnaldum's burst into the box, control and the eyes before laying off for Lallana, absolutely unstoppably thumped into the net.
The final 30 minutes saw Liverpool mostly in control, but not without necessary intervention. Mignolet's wonderful save on Vardy in the 61st minute, Leicester's only self-created clear-cut chance, saved everyone a lot of drama. There was also further smart keeping with multiple punches on corners, free kicks, and long throws, incurring a bloody nose and cut eyebrow in the process. Loris Karius made the bench for the first time today. I think Simon Mignolet noticed.
And, because Liverpool's attack can be very, very, very good, Liverpool eventually added a fourth on the counter: Mané in behind, around the very-far-out-of-his-box Schmeichel, then setting up Firmino's second. It should have happened sooner: Henderson ballooning a shot from 12 yards in the 79th, another excellent save from Schmeichel, this time on Mané, in the 86th. We can start being greedy when it comes to Liverpool scoring.
Two goals for Firmino. A goal and assist from Mané. An assist from Sturridge as well as crucial contributions to Liverpool's first and third. If they keep this up, I will quickly run out of superlatives for all three, both individually and as an attacking trident. It's not even mid-September and they're linking up like that. Be very, very afraid.
Liverpool have scored four or more in three of this season's five matches. Sure, one came at Burton Albion, but the other two happened against last season's second and first-place sides, teams who conceded four goals just once last season. Liverpool have scored three or more in the league eight times since the start of 2016, in 23 matches, more than any other side. Liverpool have scored 50 league goals in 2016 – an average of 2.17 per game – more than any other side.
An emphatic 4-1 win over the defending champions. That attacking tornado, that increased cohesion up front and midfield, that stifling of an attack as good as Leicester's has been despite two midfielders in the back four – the type of attack Liverpool has been prone to failing against – and that resiliency despite making a mind-boggling mistake.
That's how you open a renovated stadium. That's how you start a home campaign.