Goals: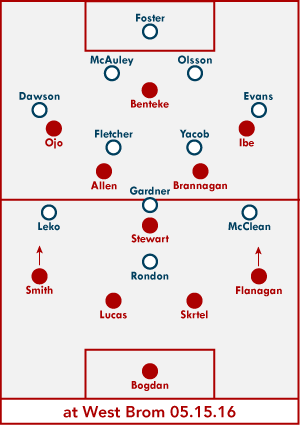 Rondon 13'
Ibe 23'
That was a game of football. Two teams, 22 starters and six substitute, played some sport for 90 minutes. There were two goals. A couple of other things happened. And that's pretty much all there is to say about that.
It's the last game of the league campaign where neither side had much to play to for.
And it didn't take long to go downhill, quickly.
West Brom hadn't scored at home since March 6 – three and a third matches without a goal in front of their own fans. It took them just 13 minutes today, thanks to Allen's bad pass, an out-of-position defense not ready for the turnover, and Adam Bogdan's "goalkeeping." 17-year-old Jonathan Leko ran around and through three defenders before playing in Rondon, who unforgivably beat Bogdan at the keeper's near post.
But at least Liverpool responded. Jordon Ibe responded, picking up the ball in Liverpool's half, embarrassing Evans and running the entire way to West Brom's penalty box. Olsson et al thankfully backed off, which was probably a very bad idea, allowing Ibe room to shift sideways, find space in the area, and slot a left-footed shot
Okay, back to square one. 66 minutes left. A goal for each side. Time for an actual contest to break out.
Jordon Ibe's goal, in the 23rd minute, was the final shot on target of the game.

— Andrew Beasley (@BassTunedToRed) May 15, 2016
Oh.
To be slightly fairer, I've no idea how West Brom didn't score at least one more. I've no idea how Rondon didn't get a hat-trick. In the 47th minute, Rondon hit the post, a free header from a free kick, then missed the rebound when off-balance because he was already celebrating what he thought was a goal. 14 minutes later, the same player headed across the face of the goal from Dawson's cross. In the 66th, wide-open at the back post on a corner, Rondon missed his initial shot, then saw his second effort deflected just wide. And in the 82nd, when Liverpool again failed to clear a corner, Rondon saw his shot blocked by West Brom substitute Tyler Roberts, then Roberts saw his shot hit West Brom defender Craig Dawson in the face.
Meanwhile, Liverpool (read: Benteke) fouled up a couple of breaks, but that's about it. There were no real attacks of note. Obviously, there weren't any shots on-target, but Liverpool only took three shots in total after Ibe scored: Joe Allen low and well wide from 30 yards out in the 31st minute, Benteke's free kick into the wall in the 45th, and Ojo off-target in the 57th.
The second half was about Liverpool's substitutes: the returns of Ings and Henderson, a debut for Sergi Canos. No one really did anything – Henderson at least moved well, Canos was involved in one of Liverpool's half-assed counters which they eventually boned up – but that all three even played is a boost in and of itself.
No one played their way into discussion for Wednesday's final. Well, maybe Henderson, but just by being fit, not because of anything he did today. If anything, Benteke and maybe Allen played their way out of contention. But, still, it's hard to read anything into today's match. It's been hard to read anything into Liverpool's last few league matches, at least the ones played on weekends.
Looked at in a certain light, today's a hell of a motivation job by Klopp. Just a draw coupled with Southampton's win means the only way Liverpool are in Europe next season is if Liverpool win on Wednesday. It's Champions League or bust, without any potential consolation of the Europa League qualifying rounds.
So that's the 2015-16 Premier League campaign. Liverpool finish eighth, a joint-low for the Premiership era along with 1993-94 and 2011-12. Liverpool finish with 60 points, two fewer than last season and the worst since 2011-12, when Liverpool made two cup finals but Dalglish still got sacked.
And I'm not really that bothered. There's a lot to regret this campaign, there are multiple matches where you look back and go "hell, how did Liverpool drop points here?" But any time you change managers mid-season, the season usually becomes a wash. Noticeable improvement matters much more than results. And Liverpool have noticeably improved under Jürgen Klopp. Especially in cup competition, but even in the league.
I know we can't help but think that Liverpool lost a great chance to be a lot better and finish a lot higher in the league, given Chelsea, United, City, Arsenal, and Tottenham's seasons, given that Leicester (Leicester!) just won the league with the fourth lowest points total in PL history.
So be it. I'm biased, and sometimes surprisingly optimistic, and I can't help but think Liverpool will have more chances under this manager.
As for this season, it's a start. It probably should have been a better start. It probably should have been a better finish, at least to the league. But the ultimate eulogy for and lasting memories from this season will be decided on Wednesday.